Punjab LG Polls Phase 2 19 Nov 2015 Latest Updates | Punjab Baldiyati Elections Phase 2 Latest Results & Updates 
Latest updates 20 -11-2015 11:30 Pm
Unofficial inconclusive Results for Punjab And Sindh LB Polls 2015 Phase 2
Party
Punjab Results
Sindh Results
PTI
321
8
PML-N
1,059
111
PPP
15
1,448
MQM
0
117
JI
9
N/A
IND
917
176
Others
35
83
Local Body Elections 2015 Phase 2 Punjab & Sindh
Unofficial inconclusive Results for Punjab And Sindh LB Polls 2015 Phase 2 , 04:00 AM
Unofficial inconclusive Results for Punjab And Sindh LB Polls 2015 Phase 2
Party
Punjab Results
Sindh Results
PTI
266
8
PML-N
911
58
PPP
12
961
MQM
0
70
JI
8
0
Party Position
LAHORE (Dunya News) – Voting for the second phase of local bodies elections in 12 districts of Punjab and 14 districts of Sindh has started at 7:30 in the morning and will conclude at 5:30 in the evening.
In the second phase of LB elections, polling is being held in Punjab's Sargodha, Gujranwala, Sahiwal, Attock, Jhelum, Mianwali, Chiniot, Toba Tek Singh, Hafizabad, Mandi Bahauddin, Sheikhupura and Khanewal districts.
In Sindh, polling is being held in Hyderabad, Tando Muhammad Khan, Tando Allahyar, Matiari, Dadu, Jamshoro, Badin, Thatta, Sajawal, Shaheed Benazirabad, Nausharo Feroz, Mirpur Khas, Umerkot and Tharparkar while the polling in Sanghar district has been postponed due to security reasons.
More than 20 million voters will exercise their right to vote in the second phase of LB elections in the two provinces.
Tight security arrangements have been made to ensure free, fair and transparent polling. Over 1 lakh 4 thousand policemen have been deployed for security during second phase of the LB polls in Punjab and the Rangers personnel have been deployed outside and inside the polling stations while as many as 40 companies of Pakistan Army are monitoring the situation.
Complaints can be lodged on telephone numbers 051-9210816-8 for Punjab and on 051-9210819 for Sindh.
LIVE UPDATES 
6:49 PM: Muhammad Shabir of PTI has won from Ward 3 of Fatehpur, getting 545 votes.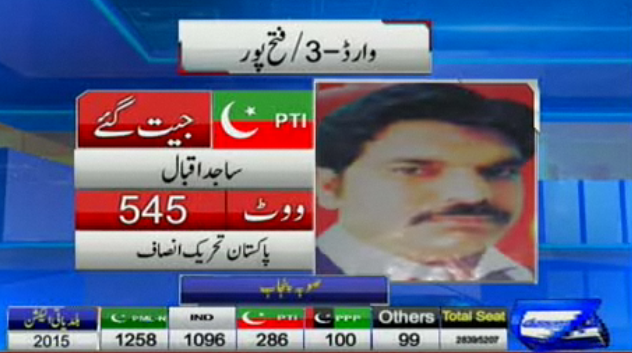 6:38 PM: Rana Shahid Khan of PML-N has won elections in Ward 11, block 3-4,8
6:33 PM: Maqbool Hussain Shah of PML-N with 404 votes in Ward 1, Basti Road.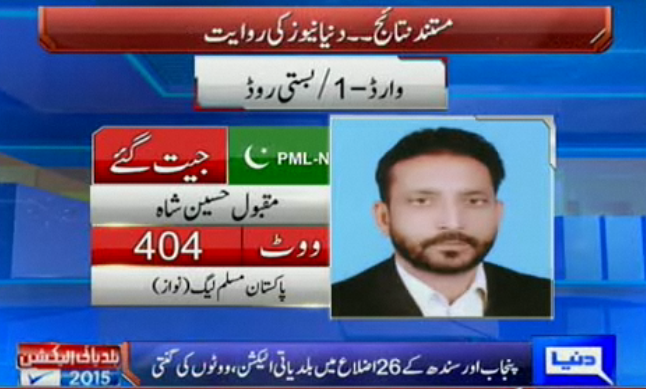 6:30 PM: PML-N candidate Rizwanullah has won elections in Ward 6, Chiniot as per unoffical and inconclusive results.
6:00 PM: 336 candidates said to have won elections unopposed, according to unofficial and inconclusive results.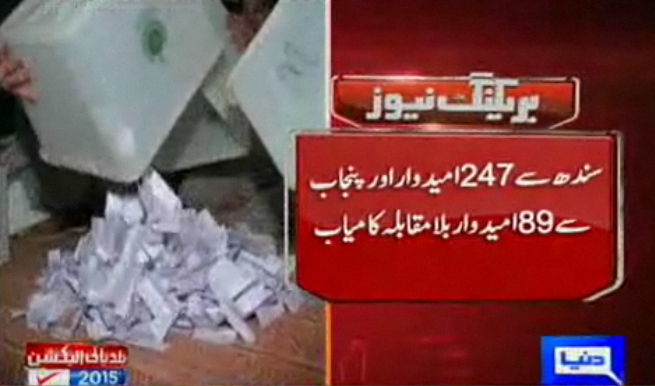 5:50 PM: PPP candidate wins from Shaheed Benazirabad in Sindh unopposed: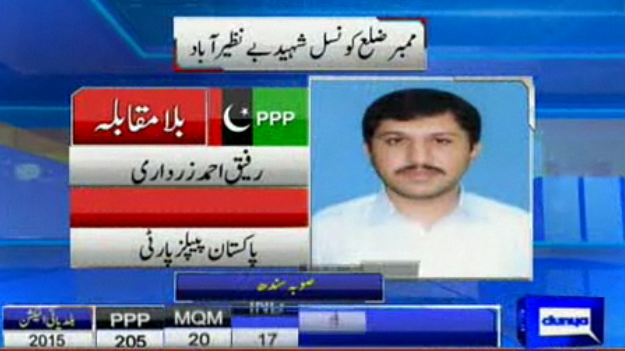 5:40 PM: Muhammad Arshad of PML-N has won in Municipal Corporation Sargodha unopposed.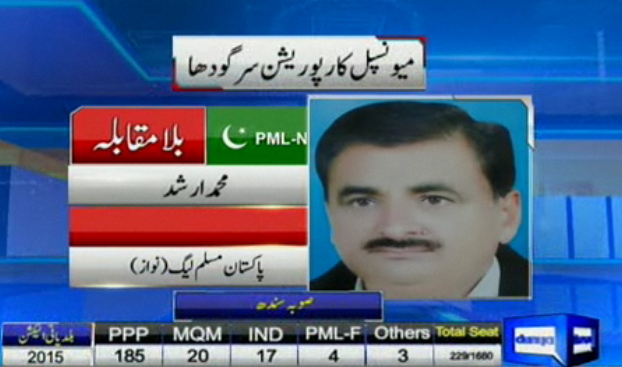 5:35 PM: Inconclusive, unofficial polling results of candidates unopposed in elections: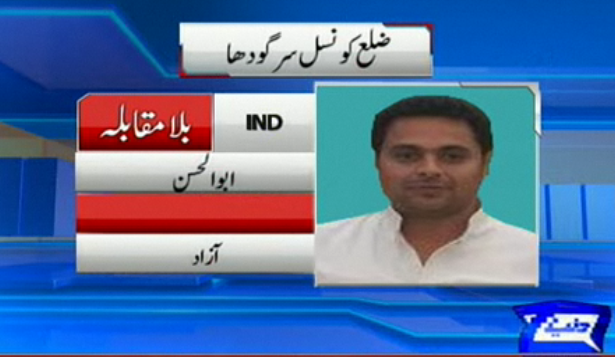 5:30 PM: Polling time for 2nd phase of local body polls in Punjab, Sindh ends. Results start pouring in however Dunya News will only start airing results after an hour as per the requirement of the broadcasting code.
5:00 PM: 6-year-old stamping on voting paper in Khanewal, as per report.
04:40 PM: Clashes between PML-N, PTI supporters in UC-18, Hafizabad.
04:30 PM: Election Commission takes notice of alleged mispractices at Murdikey, courtesy Dunya News.
 Upon their win, candidates are allowed only to offer prayers, not celebrate with drum. This will keep the atmosphere clean..
Punjab Law Minister Rana Sanaullah to Dunya News
04:15 PM: Blatant violation of ECP rules as supporters of candidates take pictures of votes being cast. 
04:10 PM: Supporters of PPP, independent candidate clash in Sehwan Sharif, Sindh.
04:00 PM: Supporters of candidate of PML-N Salman Khalid aka Pomy Butt and independent candidate clash in Gujranawala. Polling stopped.
03: 45 PM: Nafeesa Shah moves resolution against National Assembly former speaker Fehmida Mirza for visiting polling station in Badin
03:40 PM: Government employee held for casting fake vote in polling station one of ward two in Mian Channu
03:36 PM: Three fake ECP officials apprehended from Sargodha UC-40's Haveli Nathu polling station
03:35 PM: No arrest made until now during polling in 14 Sindh districts: Rangers DG Bilal Akbar
03:35 PM: MPA pressurizes police to favour PML-N candidate in Kamoke's ward seven, opposition demands Rangers deployment
03:34 PM: Independent candidate, PML-N supporters open fire in Sharaqur Sharif s UC-38 polling station 15, polling halted
03:32 PM: Polling in ward number 1 of Kandyaro postponed due to misprinting of ballot papers
03:00 PM: At least three persons injured in clash between supporters of PML-N and independent candidates at ward 2 of polling station number 1 in Mian Channu
02:58 PM: Election Commission receives 56 complaints from Punjab and 46 from Sindh. ECP says no serious complaint regarding law and order received so far
02:45 PM: Two injured in clash between PTI and PML-N supporters at polling station number 108 in Chicha Watni
02:44 PM: Unknown persons lift ballot boxes from female polling station after altercation between two groups at Bhaya Kalan Polling Station's ward number 2 in UC-17 of Muridke
02:35 PM: Polling temporarily stopped due to mismanagement at female polling station's ward number 1 in UC-63 of Gujranwala 

 02:25 PM: Polling agents of all parties asked to leave polling station after clash between supporters of PML-N and independent candidates at ward number 1 in Hafizabad

 02:06 PM: PPP leader Khurshid Shah demands resignations of provincial commissioners over postponement of elections in 82 union councils of Sindh

 01:50 PM: Voting process at polling station Asghar Jatoi in Tando Muhammad KHan stopped due to clash between two groups
01:49 PM: Two women arrested in UC 26 in Sukhekhi and in Khanka Dogra for casting fake votes
Local Body Elections 2015 Phase 2 Punjab & Sindh schedule & City Names,LG Elections 2015,LG Electionsa 2015 Punjab,LG elections 2015 Sindh,Schedule of Phase 2 LG Elections Punjab and Sindh 19 November 2015.Local govt elections 2015 phase 2 is being held today in Punjab and Sindh.These elections are being held in 14 districts of Sindh and 12 districts of Punjab.Polling will start at 07:00 AM and will end at 5 PM.LB Elections 2015 phase 2 includes Sargodha,Gujranwala,Sahiwal,Attock Jehlum,Mianwali,Chiniot,Toba tek Singh,Hafizabad,Mandi Bahau Din,Sheikhoo Pura and Khanewal districs of Punjab.There are more than 12,600,000 registered voters in 12 districts of Punjab.
LB elections 2015 phase 2 includes Hyderabad,Tandoo Muhammad Khan,tandoo Allah Yar,matiari,dadu,Badin,jamshoro,Badin Thatta,Sajawal,shaheed Be Nazir abad,Tharparkar,Meer Pur Khas,umar Kot and Noshehro feroz districts of sindh.There are more than 7,16,9000 registered voters in these districts of Sindh.While elections have been postponed in Sanghar due to security reasons.Army will be deployed on sensitive polling stations of both provinces.
ECP Postponed LB Elections in 8 Districts of Sindh
On the other side Supreme court SC of Pakistan has canceled LG elections 81 Union Councils of 8 districts of Sindh and ordered to re-form political constitutions id these UC,s.Union councils where elections are postponed include 6 UCs of Tharparkar,Noshehro Feroz 17,meer pur Khas division 25,Badin 4,Hyderabad 24 and 5 UCs of Sanghar.Election commission has issued notice of postponing the elections in 8 districts following the orders of SC.
Polling for 2nd Phase of LG Polls underway
LAHORE/KARACHI: Polling for second phase of local bodies' elections has started in 12 districts of Punjab and 14 districts of Sindh under strict security, Samaa reported Thursday.
Polling began at 7:30am early this morning to continue for ten hours till 5:30pm.
According to Election Commission, expiry of CNIC does not invalidate the voters from casting votes.
According to Election Commission of Pakistan (ECP), a total of 14,685,822 voters are registered in 12 districts of Punjab and 8,005,200 in Sindh.
Election Arrangements
The ECP has formed 9,011 constituencies including 1,102 Union Councils for direct elections, 6,602 wards within union councils, 64 municipal committees, 1,297 wards in municipal committees in all 12 districts.
District Returning Officers (DROs), Returning Officers (ROs) and Assistant Returning Officers (AROs) have already been appointed by the ECP for this purpose.
For voters in Punjab, nearly 11,906 polling stations have been set up.
Election Procedure
A union council shall have a directly elected chairman and a vice-chairman as joint candidates, and 6 councillors on general seats–one each from a ward.
These members can contest polls either on party tickets or as independent candidates.
Once elected, the general members will elect two female members, one worker, a youth and a non-Muslim member for their wards.
Third Phase of LG Polls
According to the ECP schedule, polling for the third phase will be held on December 5 in six districts of Sindh and 12 districts Punjab.
Punjab districts where local government elections would be held in the third phase are Layyah, Rajanpur, DG Khan, Muzaffargarh, Jhang, Khushab, Rawalpindi, Sialkot, Narowal, Rahim Yar Khan, Bahawalpur and Multan.
Whereas Sindh's districts are: Karachi East, Karachi West, Karachi Central, Karachi South, Malir and Korangi.
Local Body Elections 2015 Phase 2 Punjab & Sindh schedule & City Names,Local Body Elections 2015 Phase 2 Punjab & Sindh schedule & City Names,LG Elections 2015,LG Electionsa 2015 Punjab,LG elections 2015 Sindh,Schedule of Phase 2 LG Elections Punjab and Sindh 19 November 2015,lst of registered voters in punjab phase 2,number of registered voters in phase 2 elections punjab,number of registered voters in sindh lb elections 2015,sindh lb elections phase 2 2015 districts list,districts of sindh LB elections 2015 phase 2,punjab lg elections phase 2 districts names,city names of lg lb elections phase 2 in punjab and sindh,names of ucs elections canceled in,ec cancels lb electiosn in sindh,names of districts elctions postponed,electioosn postponed in 8 districts of sindhPunjab LG Polls Phase 2 19 Nov 2015 Latest Updates | Punjab Baldiyati Elections Phase 2 Latest Results & Updates,Local Body Elections 2015 Phase 2 Punjab & Sindh schedule & City Names,Local Body Elections 2015 Phase 2 Punjab & Sindh schedule & City Names,LG Elections 2015,LG Electionsa 2015 Punjab,LG elections 2015 Sindh,Schedule of Phase 2 LG Elections Punjab and Sindh 19 November 2015,lst of registered voters in punjab phase 2,number of registered voters in phase 2 elections punjab,number of registered voters in sindh lb elections 2015,sindh lb elections phase 2 2015 districts list,districts of sindh LB elections 2015 phase 2,punjab lg elections phase 2 districts names,city names of lg lb elections phase 2 in punjab and sindh,names of ucs elections canceled in,ec cancels lb electiosn in sindh,names of districts elctions postponed,electioosn postponed in 8 districts of sindh,lg polls in punjab phase 2 latest results update,lg polls in punjab phase 2 districts,lb polls punjab phase 2 news updates,punjab baldiyati intkhabat 2015 phase 2 nataij,punjab local body elections phase 2 2015 latest news,punjab local govenment elections phase 2 2015 results updates,sindh local govenment elections phase 2 latest results and updates,Sargodha local body elections results,Gujranwal lg polls phase 2 results,Sahiwal lb polls phase 2 2015 results,Attock lb polls phase 2 2015 results, Jehlumlb polls phase 2 2015 results,Mianwali lb polls phase 2 2015 results,Chiniot lb polls phase 2 2015 results,Toba tek Singh lb polls phase 2 2015 results,Hafizabad lb polls phase 2 2015 results,Mandi Bahau Din lb polls phase 2 2015 results,Sheikhoo Pura lb polls phase 2 2015 results ,and, Khanewal lb polls phase 2 2015 results,Hyderabad lb polls phase 2 2015 results,Tandoo Muhammad Khan lb polls phase 2 2015 results,tandoo Allah Yar lb polls phase 2 2015 results,matiari lb polls phase 2 2015 results,dadu lb polls phase 2 2015 results,Badin lb polls phase 2 2015 results,jamshoro lb polls phase 2 2015 results,Badin lb polls phase 2 2015 results,Thatta lb polls phase 2 2015 results,Sajawal lb polls phase 2 2015 results,shaheed Be Nazir abad lb polls phase 2 2015 results,Tharparkar lb polls phase 2 2015 results,Meer Pur Khas lb polls phase 2 2015 results,umar Kot lb polls phase 2 2015 results ,and, Noshehro feroz lb polls phase 2 2015 results